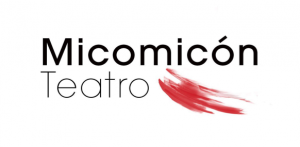 The theater company Micomicón (Mambrino, S.L.) was established in 1991 by a group of actors coming from the Spanish National Classic Theatre Company (CNTC), including their current leaders, Laila Ripoll and Mariano Llorente. Since then, they have produced more tan twenty performances, both adaptations of classic texts (specially what is known as the Spanish Golden Age (Renaissance and Baroque, XVI-XVII centuries) and plays written by them. Along this years, the have adapted pieces by Lope de Vega, José Zorrilla, Calderón de la Barca. They have also adapted plays by Shakespeare and Lorca.
Since its foundation, Micomicon has tried to merge Spanish theater tradition with avant-garde European and Iberoamerican theater. Progresively, the company has adopted in its performances and staging the new digital and multimedia technologies, being one recent example the very successful and award-winning play The Blue Triangle (El triángulo azul), a Micomicón original production based on the experience of Republican exilees in the Mauthausen concentration camp. The Blue Triangle is Micomicon's fouth production specifically dedicated with the Spanish memory of the Civil War and the European War. Before it, the company produced the trilogy of memory composed by three original scripts: Atra Bilis, Los niños perdidos (The lost children) and Santa Perpétua (Saint Perpetua).
Specialized in the original production of sophisticated theater plays relating to traumatic memory, Micomicons's role in UNREST is to produce an original script directly related to the academic theoretical framework, themes and goals of the project. After having worked on Spanish historical memory in the trilogy of memory and, later, on the Spanish prisoners in the Austrian Mauthausen concentration camp, their next challenge is to create a play focused on the theatrical recycling of European memory related to the legacies of wars. Micomicon´s theater piece will be perfomed in Spanish in Madrid, to be later videorecorded, translated and exposed to other audiences in Europe.
Team: